Bareboat Charter
SET SAIL IN STYLE ON OUR SPACIOUS, MODERN, WELL-EQUIPPED YACHTS
Skippered Charter
ENJOY THE FABULOUS TURQUOISE SAILING WATERS AND SUNSHINE
RYA Training Courses
IMPROVE YOUR SAILING SKILLS WITH OUR FIRST CLASS TRAINING COURSES
Family Holidays
RELAX AND UNWIND IN UNSPOILT, TRANQUIL ANCHORAGES & HARBOURS
Yacht Charter in Menorca & RYA Training in Menorca
360º of fabulous calas, beaches and Mediterannean blue sea.
THAT'S MENORCA CRUISING!
LOOKING FOR THE BEST YACHT CHARTER IN MENORCA?
We offer bareboat yacht charter in Menorca as well as skippered yacht charter and RYA training courses from our base in the Port of Mahón, Menorca. Our well, equipped modern yachts are perfect for circumnavigating the island in comfort and style. Our friendly, professional team at Menorca Cruising are here to help you to enjoy the perfect sailing holiday in our beautiful Mediterranean waters.
WHAT SHOULD YOUR EXPECT FROM  A YACHT CHARTER IN MENORCA?
Menorca offers 300 days of sunshine & sheltered sailing all year round, just 2.5 hrs flying time from the UK.
Our base in Mahón Harbour is 10 minutes from the airport. Loved for its unspoiled charm & relaxed way of life, you can choose from 130 beautiful, sandy beaches & anchor in pine-fringed, turquoise waters.
RYA COURSES IN THE MEDITERRANEAN
We deliver quality RYA Start Yachting, RYA Competent Crew, RYA Day Skipper & RYA Yachtmaster Preparation sailing courses from our base in Mahón Harbour
•  We use experienced, professional RYA instructors.
•  You will receive patient, friendly & thorough tuition.
•  Beginners, families & mixed abilities welcome.
•  Fresh Mediterranean cuisine each day.
•  Anchor for lunch & swim in unspoilt coves.
YACHT CHARTER IN THE MEDITERRANEAN
•  Circumnavigate Menorca in 7 days
•  Stop at safe, sandy anchorages & pretty harbours
•  Relax, feel safe & just enjoy your holiday in the sun.
We have a variety of sailing and motor yachts for charter – Bavaria 36, 38, Beneteau Oceanis 393 & 45 and a Dufour 405 Grand Large.
We also offer Roxanne a 7m Cobra Rib available for bareboat or
with a skipper.
Our yachts are moored in Mahón Harbour, one of the largest & most beautiful harbours in the Mediterranean. We can also arrange a variety of Day Sails on yachts based in Mahón & Ciutadella.
VIEW MENORCA CRUISING'S CHARTER FLEET
SEE the full fleet below and choose your perfect yacht.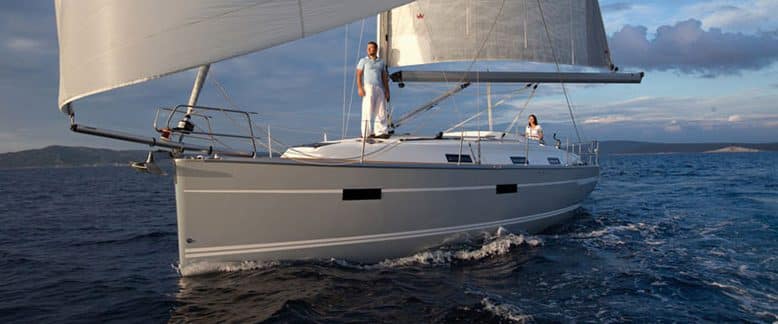 Bavaria 36 - Las Sirenas
Our Bavaria 36 Avantgarde has it all! An exceptionally easy yacht to sail, makes for a relaxing charter.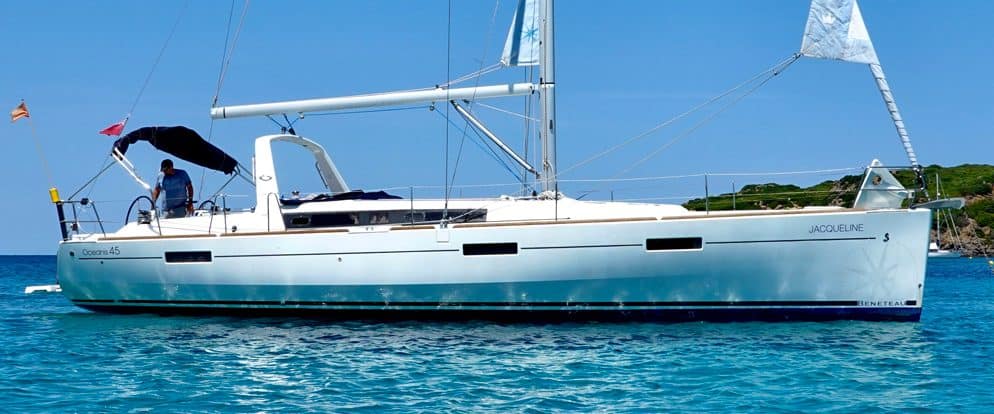 Beneteau Oceanis 45 | Jacqueline
New to the fleet for 2020, Jacqueline is a very spacious Beneteau with 4 double cabins + saloon berth, bow thruster and electric transom.
Bavaria 38 | Sa Barca
A spacious Bavaria yacht with good headroom, a large saloon and galley kitchen.
A great all round boat for flexible cruising.


Dufour 405 Grand Large | Isabelle
A Menorca Charter favourite, featuring 3 double cabins, teak deck, fully battened main. An all round comfortable yacht that feels right at home in our turquoise waters.
Beneteau Oceanis 393 | Papaya
A quality Beneteau yacht which is fast & easy to sail. With slab reefing and teak decks.
Charter Fleet fees price list | 2022
To see our full listing of charter fleet fees please click on the link below.