BAREBOAT & SKIPPERED YACHT CHARTER IN MENORCA
WHY CHARTER A YACHT WITH FLAMINGO YACHT CHARTERS IN MENORCA?
We offer a personal, friendly, highly professional yacht charter service.Modern yachts and short transfer times. With a fleet of high quality yachts to choose from, we can help you to create the perfect yacht charter holiday based around your needs.  You'll be on the water in no time: our base is only a two and a half hour flight from the UK and a ten minute drive from Mahón airport. Our base staff will have you onboard and ready to start your sailing holiday quickly, efficiently and with minimum hassle so that all you have to do is sit back, relax and enjoy the Menorca sunshine. We are also happy to help you to plan an itinerary that suits your level of sailing and yacht charter experience – there are plenty of safe locations right inside the harbour of Mahón and many lovely coves and beaches within easy reach to help you ease into your sailing holiday. If you have not sailed around Menorca before why not take advantage of our local knowledge of the harbours, anchorages, weather, shops and restaurants. During your yacht charter, you will have a copy of the Islas Baleares Pilot Guide by Graham Hutt on board to assist you with local navigation.
SAIL ROUND THE ISLAND OF MENORCA ON YOUR YACHT CHARTER WITH US
On a 7 day yacht charter with us, with favourable winds and weather,  it is entirely possible to complete a circumnavigation of the island. For the more adventurous sailors, this allows for plenty of sailing time each day followed by the choice of mooring in unspoilt coves or in more lively ports offering charming restaurants, bars and shops. Each day will bring beautiful scenery and new exciting destinations as you plot your course around the island under sail.  At all times you have the added comfort that our support staff are less than an hour away if you should have any problems during your cruise.
We can help you make the most of your holiday by helping you to plan your itinerary on arrival.
Menorca is ideal for Charter for so many reasons. Firstly, you will climb on board your yacht on its home berth in the breathtakingly beautiful Mahón Harbour. Being 3.5 miles in length, sailing in the harbour is always guaranteed and it is the perfect place to get used to your yacht.
The island has sheltered morning, lunch time and evening anchorages all the way round, making it ideal for families. With more than 40 unspoilt coves with clear, turquoise water and silver sand beaches, a circumnavigation of the island is a delight. Get away from the crowds and anchor in a sheltered cove or visit the harbours of Ciutadella or Fornells if you are looking for quayside restaurants, unique shops and a rich sense of history.
PLANNING YOUR YACHT CHARTER HOLIDAY
Included in your Charter Pack:
Regular weather update | Home marina mooring berth | Inflatable Tender | Wind, Log & Depth Instruments | Roller Furling Headsail | Refrigeration | VHF Radio | GPSChart Plotter | Stereo CD Radio | Deck cushions | Cockpit table | Large Bimini or sun awning | 240 V Shore power socket | 12 V Power sockets | Mounted Swimming Ladder | Deck Shower | Mask & Snorkel
Changeover Day: Saturday or Wednesday, Friday or Sunday starts are possible please ask for details.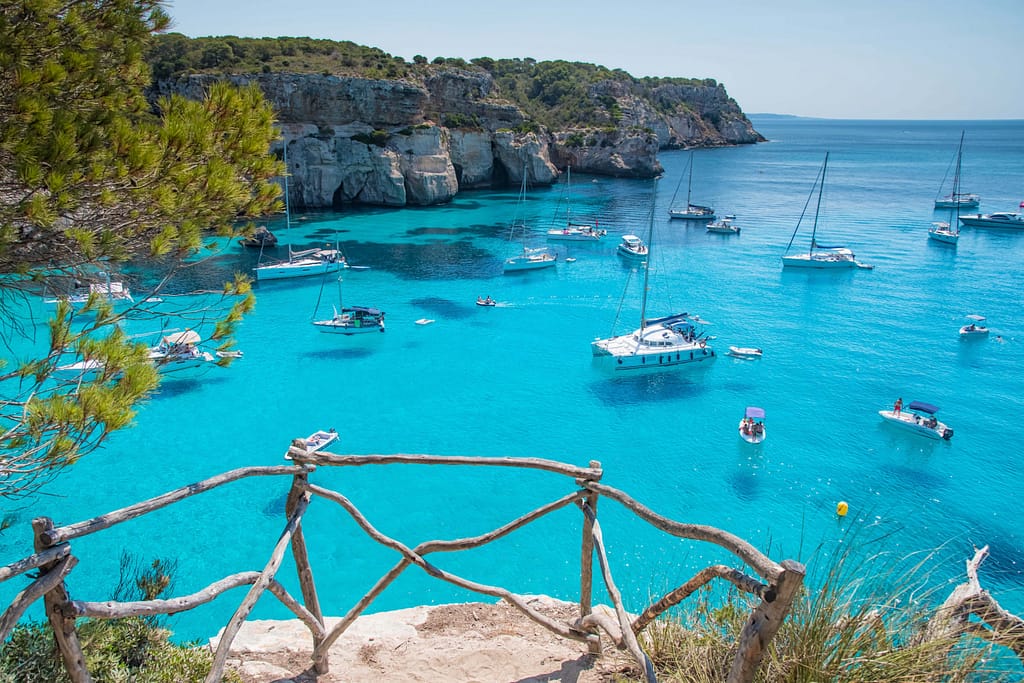 Wherever you choose to sail to, the island of Menorca offers plenty of options. Check the forecast and set sail with a favourable wind north, south or all the way around the island. 
There are 80 beautiful coves (calas) for you to explore around the coast of Menorca, our short guide below suggests a few of our favourites. 
The Imray Islas Baleares Pilot Guide gives more details of the calas and ports to explore around the island and is well-worth reading.
SUGGESTED ITINERARY - Clockwise Circumnavigation of Menorca in one Week Please Note. The itinerary below is totally subject to suitable sea and wind direction and should be read in conjunction with and subject to the recommendations of Imray Pilot Guide The Islas Baleares Pilot by David and Susie Baggaley (previously Graham Hutt)
SUGGESTED ITINERARY - Anti-Clockwise Circumnavigation of Menorca in one Week Please Note. The itinerary below is totally subject to suitable sea and wind direction and should be read in conjunction with and subject to the recommendations of Imray Pilot Guide The Islas Baleares Pilot by David and Susie Baggaley (previously Graham Hutt)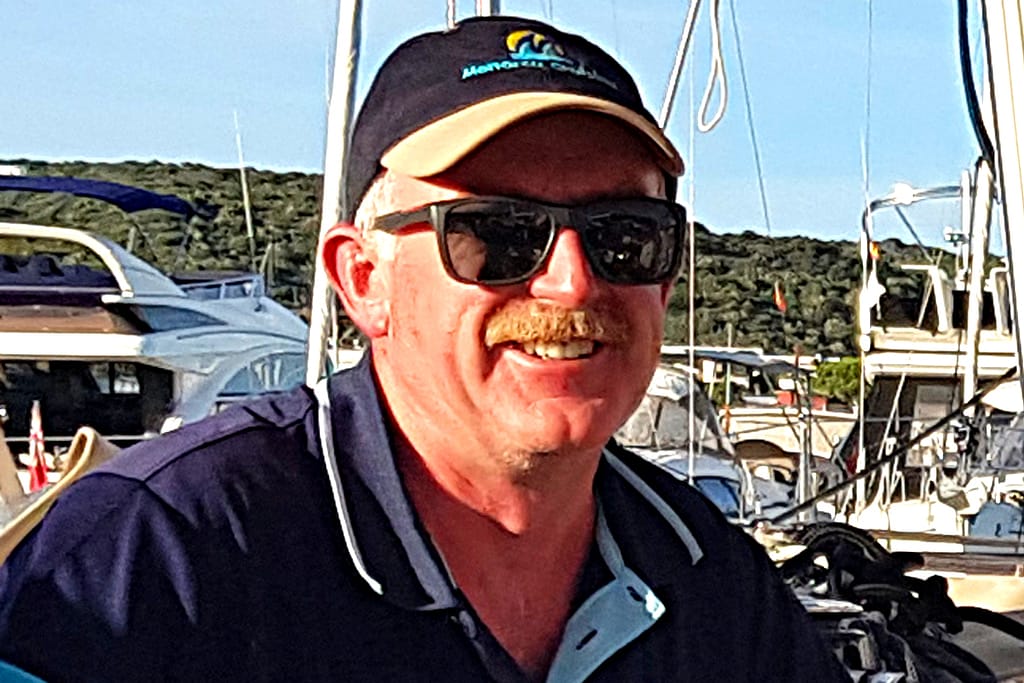 Andy
RYA Principal & Chief Instructor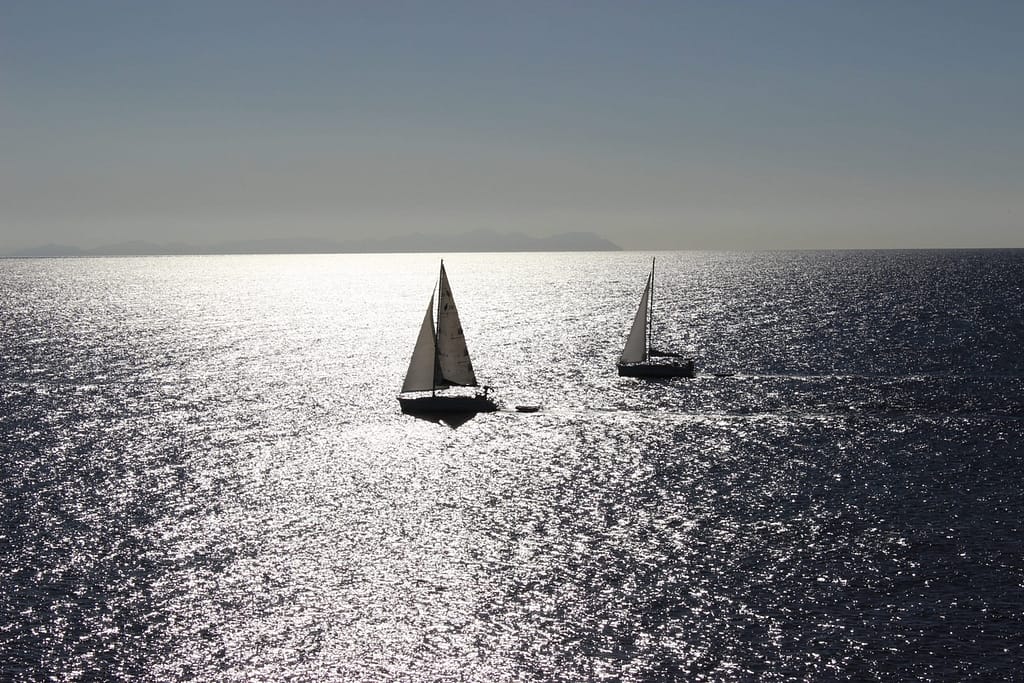 RYA Sailing Courses
Comp Crew, Day Skipper & More
Support Team
Charter & Boat Preparation