RYA SAILING COURSES IN THE MEDITERRANEAN
We are very used to mixed ability teaching so please do not worry too much about picking the right sailing course in advance. We always assess where you are up to on the first day and take you as far forward as possible, without pressure. Beginners can start with a 5 day RYA Competent Crew or a 2 day RYA Start Yachting course.
Those who already know how to sail and have completed their Day Skipper Theory Course may be ready for the
RYA Day Skipper Practical.
Change to the Day Skipper Practical in 2017
From 2017, there is a single RYA Day Skipper Practical certificate with no distinction between Tidal and Non-Tidal Practical courses.
This brings the RYA in line with other international sailing schemes who do not differentiate between the certificates obtained when you learn to sail in different areas of the world.
You can do your Day Skipper Practical course in Menorca but you must complete your Day Skipper Theory course in advance as you will need to demonstrate your understanding of tidal navigation.
We run regular courses in Menorca each week from May to October. This is the main season in Menorca when the weather is hot and sunny, the restaurants and resorts are all open and the sea is warm for swimming and snorkelling. You can sail in Mahón Harbour and then set out to explore the wonderful coves and harbours around the island.
Powerboat Level 1 & 2 / ICC Courses – More Info »
Menorca Cruising can now offer powerboat Level 1 & 2 courses in Mahon, for those wishing to learn how to use a small powerboat safely and for those wishing to charter a small boat in Menorca or other Mediterranean countries where a qualification is needed.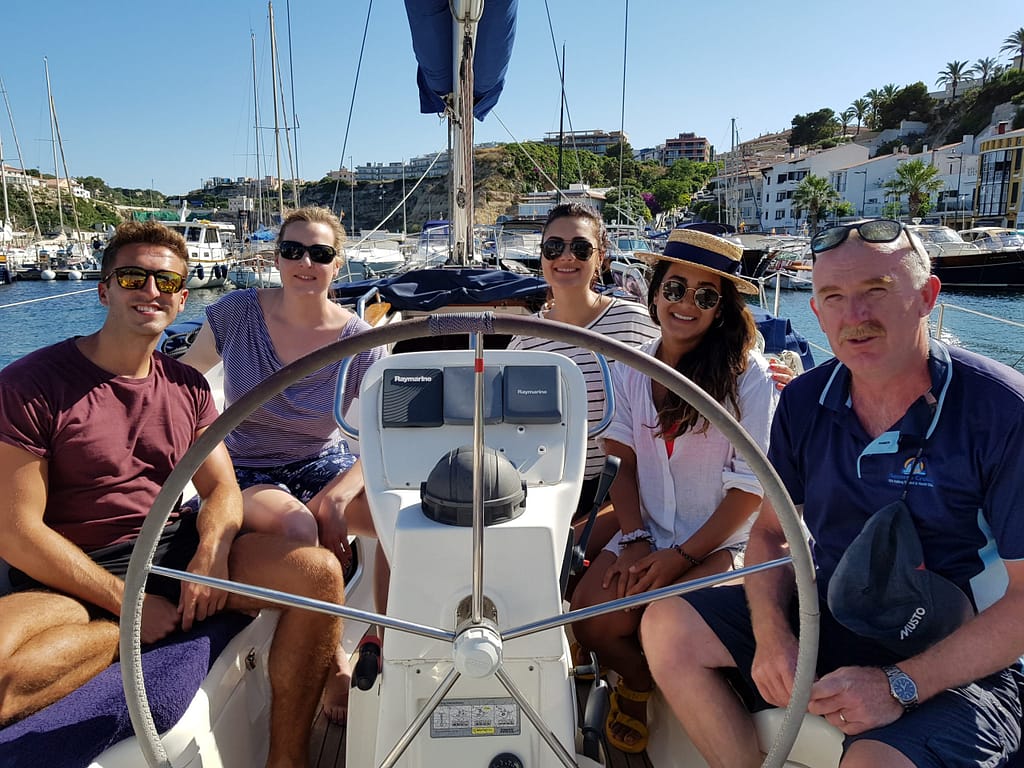 Why choose Menorca Cruising for your sailing Course?
• We deliver quality sailing courses from Mahón Harbour
• We use experienced, professional RYA instructors
• You will receive patient, friendly & thorough tuition
• Beginners, families & mixed abilities welcome
• Fresh Mediterranean cuisine each day
• Anchor for lunch & swim in unspoilt coves
• Relax, feel safe & just enjoy your holiday in the sun
• LEARNING IS FUN IN THE SUN!
2020 FEES (including Spanish Tax)

Course Fees per Person

Mid Season
March to 18th July
and 1st Sept - 31st Oct.

High Season
18th July to 31st Aug.

Exclusive family & group courses available in Menorca
RYA and other Practical Sailing Courses - 2020 PRICES
Course

Details

Fees

2 Day course for beginners / those with some dinghy experience

5 Day course for beginners / those with some dinghy experience

Competent Crew Extra Skills

5 Day course for those who have completed their Competent Crew

5 Day course for those who already know how to sail and have an understanding
of navigation theory.

Exclusive courses for groups on our Beneteau 48. Designed for those who want tuition
on a larger yacht

5 Day course for those wanting to refine their skills.

Half Day Assessment for those with sailing experience.

Longer passages with tuition.

Coastal Skipper Practical

For those with plenty of logged miles and night hours.

Yachtmaster Coastal & Offshore Prep.

Preparation courses for Yachtmaster Coastal and Offshore Exams.

Learn to operate a small rib or powerboat and gain your ICC

Learn to sail while on a charter holiday with your own skipper and training designed for
you and your family or group.
RYA Combined Theory & Practical Sailing Courses in the Mediterranean
Course

Details

Fees

Basic Navigation + Day Skipper Practical

7 Day course for those needing to brush up on their navigation.

Online Theory + Day Skipper Practical

Study for your Day Skipper Theory course from home before doing your Practical
course in Menorca.

Day Skipper Theory + Day Skipper Practical

9 Day course for groups of 4 + in Menorca.
MEET THE CREW AT MENORCA CRUISING