MEET THE TEAM
Menorca Cruising RYA Sailing School
Menorca Cruising has a long history going back to 1994 when it was established as the first RYA sailing school in the Mediterranean.
Mahon harbour offered the perfect location for teaching beginners to sail and the safe anchorages and lovely harbours of Addaya, Fornells and Ciutadella are ideal destinations for new skippers making their first passage plans.
John Davies is the Principal of the sailing school and Andrew Hutton is our excellent Chief Instructor. Both of them are involved in managing the maintenance of our boats. We use a small number of hand picked sailing and powerboat instructors with the required experience and teaching skills to ensure you have a safe and enjoyable learning experience.
Menorca Cruising Yacht Charter
In 2005 Menorca Cruising dipped its toe into the yacht charter business, allowing students to embark on their first bare boat charter on similar Bavaria yachts in a familiar location. Many of our yachts are privately owned and managed by us for British and Spanish owners. We charter the yachts from March until November and spend the winter months maintaining them and caring for them to ensure that your holiday is as enjoyable and trouble free as possible.
MEET THE CREW AT MENORCA CRUISING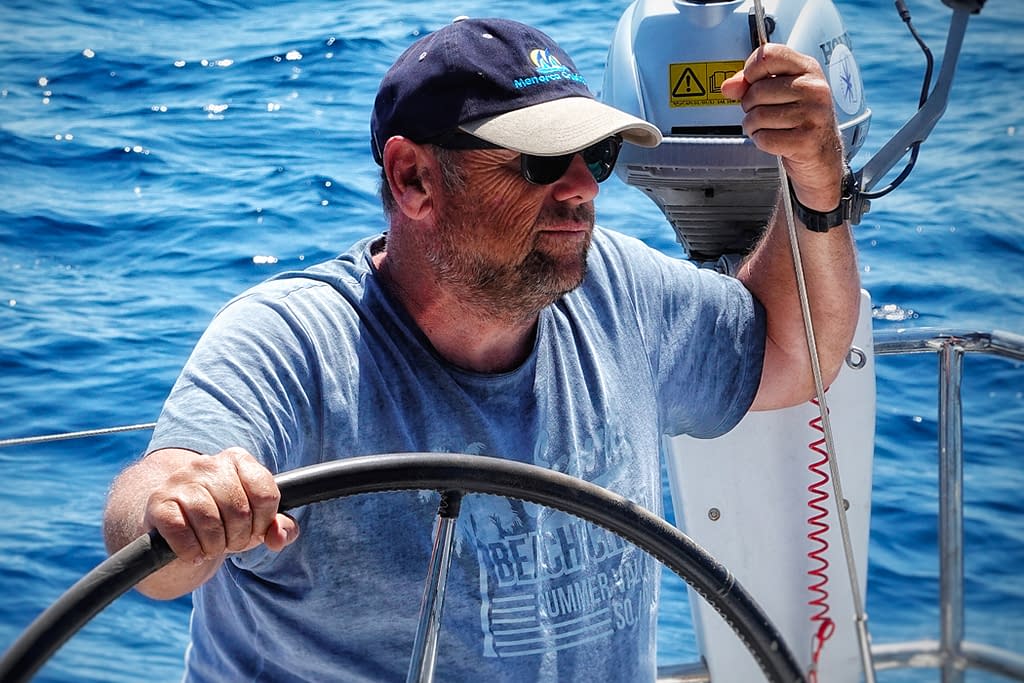 John Davies, Principal of Menorca Cruising School.
John has been Principal of Menorca Cruising School since 2007. He is very conscious that the school is only as good as its instructors. To this end, MCS instructors are carefully selected to ensure they have the most important qualities of patience, good humour and a professional outlook. They are chosen from experienced backgrounds which bring a highly professional approach to the training.
John has grown the business from a sailing school and small charter business into a successful charter and yacht management business with a full range of sailing yachts and ribs and an RYA /ICC powerboat training centre.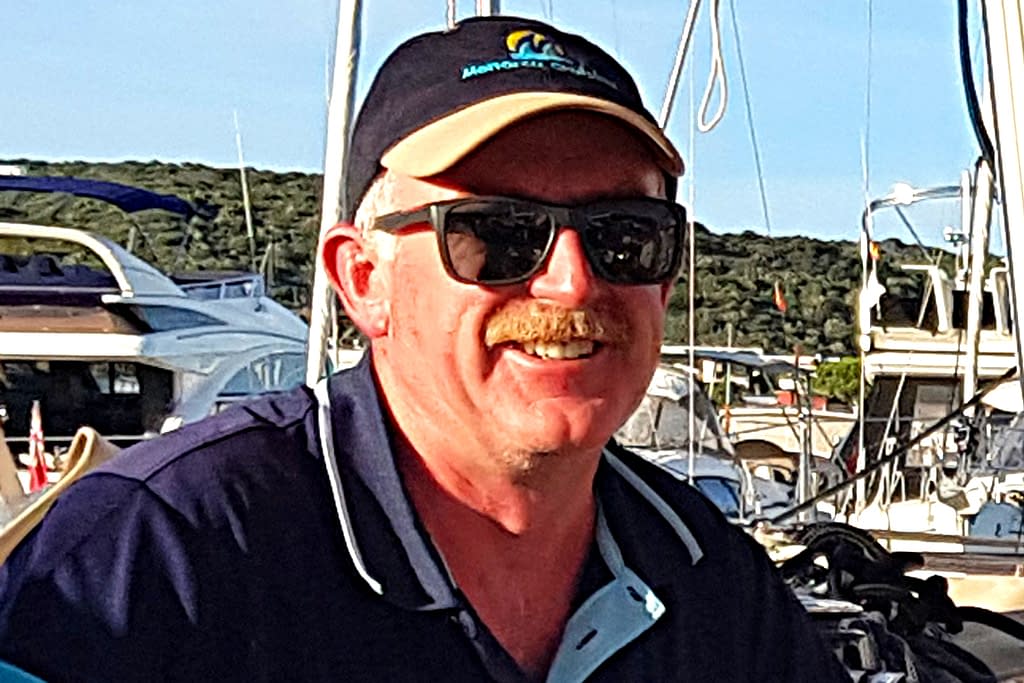 Andrew Hutton Chief Instructor, Sail & Power.
Andy is a Yachtmaster Instructor for sail and he has been working as a Cruising Instructor at Menorca Cruising since May 2015. He has proved extremely popular with all his students and has become an essential and highly valued member of the team. Andrew works in Menorca all year round ensuring that our boats are maintained to the highest standards.
Andy has cruised and raced extensively with his family in the West of Scotland and he qualified as a Yachtmaster Offshore in 2005. He chartered in the Mediterranean and Caribbean before sailing with his wife from Scotland to Spain from 2013 -2015.
Andy is from Edinburgh and worked for 30 years in the motor industry, as a qualifield automobile engineer and in senior management. He has been sailing his own boats for 25 years and now keeps his Oyster 406 in Menorca.
Andy is also a Powerboat Instructor and SRC (vhf) Assessor and RYA Diesel Instructor who has undertaken major refits, routine maintenance and all aspects of repairs on board.
Elizabeth Parr Commercial Manager.
Liz oversees the marketing of the sailing school and charter business.
She has lived in Menorca since 2002. Before that she worked in the metals industry as a commodity analyst, editor, publisher and communications manager. Liz will often be your first point of contact with Menorca Cruising.

Email: [email protected] com
or call 0034 660 647 845
Charter Support Team. Including:
Laly Sintes – Laly ensures that our boats are spotless inside and out and that our charter guests have all the extras they require. Laly is from San Clemente in Menorca and she had many years of experience working at Pedro's Boat Centre before joining Menorca Cruising.
Sofia Benzid – Sofia is here to help all our clients with their bookings and to welcome them and look after them in Menorca. Sofia has lived in Menorca for many years and she speaks fluent French, Spanish and English.
In addition Menorca Cruising have a number of crew members that they can call upon ranging from sail and power instructors to engineers and general all round support people. All of which makes Menorca cruising a well rigged and ship shaped charter business.